"I'm going to love you, like nobody's loved you, come rain or come shine"
Leaving Las Vegas (1995) directed by Mike Figgis, starring Nicholas Cage and Elisabeth Shue
I have watched Ingmar Bergman's Persona (1966) three times over the past two months; I've watched Cries and Whispers (1972) three times in the past six (the latter requires longer intervals between viewings) and I'm becoming a Bergman believer. In five of the films he made between 1966 and 1972, including the two already mentioned – I've not yet seen The Rite (1968) or The Touch (1971) – the characters are utterly brutal to themselves and each other. Only Alma (Liv Ullman) in The Hour of the Wolf (1968) and Agnes (Kari Sylwan) in Cries and Whispers are largely unscathed, enclosed by a certain innocence and simplicity; of course, that is not all that goes on in these films and as overwhelming cinematic art, they are required viewing.
Note: Make sure you turn up the volume in Cries and Whispers to be able to hear the whispers. They will leave you feeling haunted.
However, it is Lent, and watching Persona this weekend (viewing Bergman should indeed count as a sacrifice – these films are not for the emotionally faint of heart) and communicating with a new friend, I began to see how much the characters in these films are in despair over their own brokenness and fragility, those that aren't already engaged in self-evisceration are out-ed as hypocrites and cruelly torn apart. The doctor (Erland Josephson) points out everything that is physically and spiritually wrong with the thoughtless Maria (Liv Ullman) while making her look at herself in the mirror in Cries and Whispers. Andreas (Max von Sydow) calls Anna (Liv Ullman) on every self-delusion she has had about her first marriage in The Passion of Anna (1969). The characters look deep inside and see nothing but overwhelming ugliness that leads to emotional violence towards themselves and others. Considering this theme in Bergman's movies from this period, I started thinking about one of my favorite movies, Leaving Las Vegas, and how the theme is nearly the exact opposite.
Note Two: Ben (Nicholas Cage) is actually far healthier looking and more lucid than a typical person dying of complications from alcoholism would be. Likewise Sera (Elisabeth Shue) probably is a bit too put together and lives quite nicely for someone who's supposed to be a street hooker. And this is a fictional movie, so no point in discussing the likelihood of the scenario.
I first saw Leaving Las Vegas when it came out (a suggestion: don't ever go see a movie about prostitution and alcoholism with one's mother). I was sixteen at the time and in a certain Spanish mysticism phase: St. John of the Cross' 'desire nothing,' 'love makes equality and similitude,' and, 'Faith is not knowledge which enters by any of the senses, but is only the consent given by the soul to that which enters through the hearing.' In this film, I saw two people, an alcoholic and a prostitute, sinners extraordinaire by any measure, encounter each other and see not brokenness and sin, but a human person to love. In their acknowledged fragility, in some ways they are spiritual planes higher than those modern marriages with pre-nuptial agreements that put under a microscope another person's possible failings – tough luck, people are going to fail you in this world and all you have are faith, hope, and love. They demonstrate nearly divine mercy towards each other – Ben calls Sera his angel, though that may also be the alcohol talking – for the next few days/weeks until Ben successfully drinks himself to death. Some, from movie critics to my own sister, have called it "the most depressing movie ever made." Funny, I think it's one of the most life-affirming movies I've ever seen. It's supposedly a tragic love story, but I find it quite beautiful and hopeful although neither of the characters is in any way redeemed by the end.
Note Three: this film can be truly depressing if one has personally known someone who is afflicted by the disease of alcoholism. When writing this, I do not mean to imply that alcoholism or a life of prostitution are not terrible things, but that that is not what I take away from this film. Nor am I making light of the fact that the author of the novel, John O'Brien, committed suicide before the film was complete.
When discussing this film with others, I'm always surprised to encounter this reaction: "Well, if they really loved each other they would have actually helped each other," as if being the one last person someone has to just hold on to isn't help and mercy and charity are overrated. In this line of thinking, anything less than Sera forcing Ben to stop drinking and Ben helping Sera out of the cycle of prostitution is not really love, but enabling. But what a weak vision that focuses exclusively on sins and sets up people to fail! Ben won't stop drinking: to paraphrase he is drinking as a way of killing himself, or killing himself to drink. And no single human person other than Christ can be so much to another that he or she could plug up all the holes and heal what is likely years of sexual and physical abuse from childhood into adulthood to "fix" Sera. Don't even get me started on the utter ridiculousness of Jerry Maguire's (Tom Cruise's) line: "You complete me." Ugh.

Early on, Ben looks Sera straight in the eye and tells her, "You can never ever ask me to stop drinking. Do you understand?" Her response: "I do, I really do." Wretched sinner, meet wretched sinner. We all have our vices, our sins that we just can't give up, to which we can only say "have mercy on me." Neither Ben nor Sera makes a serious attempt to alter the other and there's real compassion in that – at the time when they do start to focus on each failings and sins, things fall spectacularly apart. These are two utterly lonely people who know they've managed to dig themselves deep into a hole and have nothing worth offering to anyone except kindness and mercy, an I'm here for you. Nothing like the title of a play that's been running in Chicago for the past several years: I Love You, You're Perfect, Now Change! They don't seek perfection in the other in an exchange of emotional goods. They simply want to exist for the other person in whatever time they have together, to be side by side. That, to me, is true love, caritas. It desires nothing, doesn't demand or impose change, but is simply an offering, I give to you, can you accept it? Christ on the Cross is, of course, a prisoner of love, giving until it hurts and far beyond.
Since I like to force my friends to watch/listen/read what I've found valuable, I once made a devoutly Christian friend watch this movie with me. At the end, she said that she found the last scene, when Ben and Sera make love for the first (and last) time, morally wrong. Yes, extramarital sex is wrong. But this is a man in the last few moments of his life whose body is wracked with tremors. The woman who loves him and has taken part of his sufferings for the past several weeks comforts him in these dying moments with an act of physical intimacy. Go get the scarlet cloth and sewing shears! Prepare the stake! Sera grants Ben communion with one last person before he leaves the earth. How awful is that? It's only awful if your version of God is one who is just waiting to getcha and make you pay for that one last sin after so many accumulated in your lifetime, one who hasn't already borne the sins of the whole world in an act of love.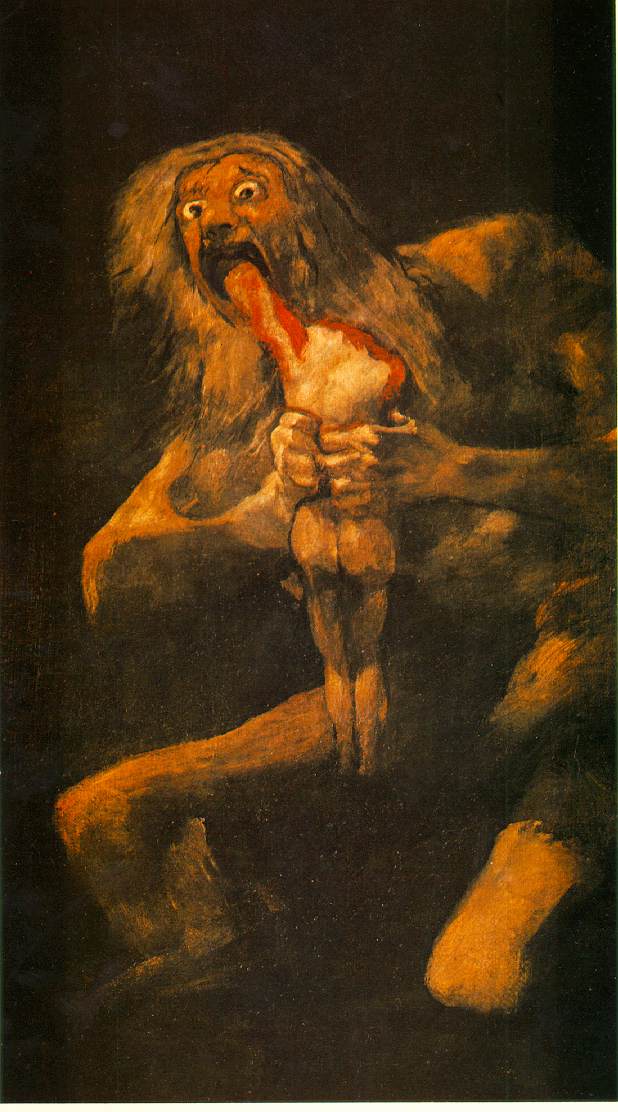 The God of Bergman (one of the reasons he eventually began to alternate between atheism and agnosticism) and of people who find Leaving Las Vegas to be a moral and spiritual failure of a film seems to me NOT to be the vision of the Ancient of Days of Daniel or Revelation that causes one to fall to hands and knees in fear and awe, but some wild-eyed, crazed god as painted in Goya's Saturn Devouring One of His Sons. A god who hungrily devours humanity in its weakness, who sees us in our brokenness and desires to tear us limb from limb for his own sport. I've never seen Satan in Goya's Saturn as other's have, perhaps because I think we are utterly clueless as to the what/why of Satan's desires.

Perhaps I consider Leaving Las Vegas a life-affirming film because in the end, Sera chooses to give whatever she can to Ben even if she doesn't know how long or how capable he is of accepting her gift. Not many of us would ever be capable of that, and perhaps only a woman as broken in so many ways as Sera is could do so, though what is probably crucial in her gift is that she knows she's broken, and most of the rest of us would never chalk up to that. In Ben's acceptance, he affirms her own humanity and grants her participation in what it means to be a person and not a sexual object. But maybe my interpretation is skewed since I'm also someone who hears the voice of God as lover in the lyrics of "Come Rain or Come Shine," (music by Harold Arlen, lyrics by Johnny Mercer, 1946).
I'm gonna love you like nobody's loved you, come rain or come shine
High as a mountain and deep as a river, come rain or come shine
I guess when you met me, it was just one of those things
But don't ever bet me, cause I'm gonna be true if you let me

You're gonna love me like nobody's loved me, come rain or come shine
Happy together, unhappy together and won't it be fine?
Days may be cloudy or sunny
We're in or we're out of the money

But I'm with you always, I'm with you rain or shine